A POB Dinner - Astrid Bear
POB on Life Aboard the Endeavour - Richard Blackburn
Warrant Officers' Menu - October 1903 - Kevin Danks
A Contemporary Jack Aubrey Menu - Dick McEachern
A Square Meal - Don Seltzer
Celebrating the Peace - 1814 - Martin Watts
Aubrey's World - Susan Wenger
Boat Club Menu - Jim Klein
Cocktails with the Admiral - Kevin Danks
A Prodigious Feast From Smollett's Peregrine Pickle - Mary S.
A Patrick O'Brian Weekend - Lawrence Edwards
Tracing the Biscuit: The British Commissariat in the Peninsular War by William Reid (.pdf 336K)

A POB Dinner - Astrid Bear
Ah, we feasted last night! Diane and I spent the day madly cooking while the gentlemen, menu in hand were out wine shopping. Then, at 6pm, we sat down to:
First course
A cold collation of gravlax, smoked trout, truffled fois gras mousse, and cheeses: Morbier, English Cheddar infused with whiskey, Dubliner, and Mahon.
Served with Saintsbury 1999 Carneros Chardonnay, from Napa, California
Second Course
Lobster Bisque, and more of the Chardonnay
Third Course
Raised Ham and Veal Pie, served with Bethel Heights 1998 Pinot Noir. From the Willamette Valley, Oregon
Fourth Course
Stewed Venison, in the Catalan Style (the recipe in Lobscouse calls for Boar, but I could only get boar bacon, which went into this -- fabulous!), served with Penny's Hill, 1997 Shiraz, from McLaren Vale, Australia.
A long pause, then
Fifth Course
Salad of hearts of Romaine with pungent herbs (basil and mint leaves), lightly dressed with olive oil, salt, pepper, and raspberry vinegar, with whichever bit of wine you felt like -- I had the white.
A longer pause . . . .we're really slowing down here . . . then,
Sixth Course
Creme Brulee topped with caramelized Demerera Sugar from Mauritius, served with the incomparable 1863 Madiera. A great flavor match! (And the rest weren't no slouches, either.)
Old Bach's Brandenburg Concertos tootling in the background, the children amazed at the food, fine company. What a night!

POB on Life Aboard the Endeavour - Richard Blackburn
POB, in his life of Joseph Banks aboard the Endeavour, quotes Banks' comments on the biscuit, for example. The diet was substantial compared to that available to many on shore, where meat wasn't often available.
At sea, on alternate days, each man got a pound of salt pork or 2 pounds of salt beef. Every day there was a pound of biscuit, and a gallon of beer. Weekly, there was 2 pints of peas, 3 of oatmeal half a pound of butter and a pound of cheese. And although the food sounds awful, tastes have changed. Cook flogged two men for refusing their meat, and Flinders flogged for refusing soup. Seamen were very conservative, as Jack says to Stephen on many occasions, and many others in the canon also make this point.
The famous captain Cook remarked that:
"Every innovation whatever on board ship, though ever so much to the advantage of seamen, is sure to meet with their highest disapprobation. Both portable soup and sauerkraut were at first condemned as stuff unfit for human beings. Few commanders have introduced more novelties as useful varieties of food and drink than I have done. It has been in great measure owing to various little deviations from established practice that I have been able to preserve my people form that dreadful distemper, scurvy".

Portable soup is worth a mention. Essentially it was dried soup, invented by Mrs Dubois in 1756, and supplied to the Navy by the appropriately named Mr Cookworthy, a Plymouth apothecary. Diana refers to the soup as 'lukewarm glue' - presumably the contractors added glue to keep the dried soup in blocks (it was packed in slabs in wooden boxes). Sauerkraut was recommended by Dr Lind (of scurvy fame) as an alternative for fresh vegetables.
Canned meat and vegetables were tried out in 1813. I seem to remember that Hornblower experienced canned beef, though I forget the reference. As a matter of interest, it was first supplied regularly in 1866, and called bully beef (adapted from the French recipe for boeuf bouillon. Unfortunately a year later a notable prostitute, Fanny Adams was murdered, and cut up into small pieces. The word went round that the Navy was supplying sweet Fanny Adams.

Warrant Officers' Menu - October 1903 - Kevin Danks
This is the menu from the dinner given in honour of my great-grandfather, W C Norris, by the Warrant Officers' mess of HMS Agincourt a few days after he rescued the mate and a crewman of the Norwegian barque 'Patria' which came ashore on Chesil Beach in a storm on the night of 26 October 1903.
Soup - Gravy
Fish - Fillets of plaice
Entree - Mutton cutlets
Joint - Roast beef, potatoes and brussels sprouts
Removes - Boiled fowl
Sweets - Plum pudding and sweet sauce
Savoury - Welsh rabbit
I will pass no comment, since the Gunroom is more than capable of taking up a food thread without any help from me, other than to note the spelling of "rabbit" where one might expect "rarebit."

A Contemporary Jack Aubrey Menu - Dick McEachern
Ben and Jerry's Concession Obsession, Bread Pudding Souffle with Jack Daniel's sauce, medium rare rib eye steak with melted stilton, and St. Louis' gooey butter cake. . .

A Square Meal - Don Seltzer
The curious claim of "16 oz to the pound" refers to a prior practice of the Victualing Board to permit the pursers a certain percentage of "spoilage". Pursers aboard ship were the equivalent of semi-independent contractors, with the potential to either earn large profits by shortchanging the men in issuing rations, or suffer great personal financial loss if unable to account for shortfalls due to excessive spoilage or theft (hence the official ceremony in which the captain and another officer would be shown the contents of a newly opened barrel of salt beef or pork and asked to formally condemn it). One of the leading causes of the Great Fleet Mutinies of 1797 was that pursers were allowed to issue only 14 ounces of beef, pork, or cheese for every pound that was specified as the official ration. One of the reforms resulting from the Mutiny was that pursers would henceforth be required to issue rations at "16 oz to the pound".

Celebrating the Peace - 1814 - Martin Watts
A piece from Sydenham's history of Poole. Following the peace of 1814 a public dinner was arranged for the 26th of July "embracing nearly the whole population of the town, without distinction of rank or circumstance."
"Not less than five thousand persons sat down to a most plentiful regale of old English fare, roast beef, plum pudding, and strong beer, attended by an excellent band of music. But one distinctive place was allowed, which was for the president, the worshipful the mayor, Samuel Clark, esq., every other individual, gentle and simple, being promiscuously intermixed."
Here's a POBish detail: "One honest plum pudding, of about a hundredweight, was added to the number by George Garland, esq." As that would come to about a third of an ounce each I presume this was a special donation above what had been arranged by the committee.
"After the dinner, many loyal toasts were drunk, and many excellent songs were sung. Amidst this vast concourse of people, not the slightest disorder occurred, and about six o'clock the company dispersed from the dinner tables, to partake of the remaining part of the festival. A select party of gentlemen having got up, at a considerable expense and labour, a very splendid collection of fireworks, a field was chosen for the occasion, in which also a spacious booth was erected, and tea and coffee made for the ladies."

Aubrey's World - Susan Wenger
["Aubrey's World" was a POB event held on May 22, 1998 at the Seamen's Church Institute at 241 Water Street in The South Street Seaport.]
Those who had been to the dinner on the Rose the previous night regaled us with their adventures! I was privileged to see the actual menu of the event. They repasted on:
Swordfish Soup (from Clarissa Oakes' bridal dinner [The Truelove])
Pickled Salmon (from Fortunes of War)
Sweetbreads in Malmsey (from The Surgeon's Mate)
Lobscouse (from The Far Side of the World)
Mrs. Pullings Pie (from Post Captain)
A Whole Leaf of Pondoo (from HMS Surprise)
Archipelago in the shape of the Galapagos (from The Far Side of the World)
Comfits (from Post Captain)
Spotted dog (from The Ionian Mission)
Ratafia biscuits (from The Yellow Admiral)
Shrewsbury cakes

A glass o' wine wi' ye?
Domain Laretrie Sur Lis ('96 Muscadet)
La Chapelle de Bebian '95 (Cote de Langeudoc)
Clos Rene Pomerol '95 (champagne)
Juve Campas '97 from Catalonia
Port (Cockburn '91)

Boat Club Menu - Admiral Klein
Marinate the chicken with lemon juice, thyme or rosemary, garlic, olive oil, and salt and pepper. Any and all substitutes work just as well.
If the outside starts to blacken before the internal temp hits 160 or so, take the roast off the fire and finish it in the oven.
I always add cowboy beans to the meal. Take a can of pintos, wash 'em good to get the canning goop off 'em, then put 'em on the fire for about three hours covered with barbecue sauce and salsa in equal proportions. Add water to cover if they start to dry out.
Of course, we always add cream corn to the buffet, cause corn and beans go great together. Oh, and yams. Don't forget to bake some big fat garnets till they're soft and starting to brown on the inside. Maybe a green salad, and some crispy french bread, don't forget the pilaf, and there you are.

Cocktails with the Admiral - Kevin Danks
Those of you who read my 'Bombing of Portsmouth' notes recently will know that my great-grandfather was steward to Admiral Paddy Boyle, Earl of Cork and Orrery. I [am posting] some of his cocktail recipes from that time - he served from 1913 to 1935.
I found two recipes that have a POB connection, being exactly the things that Jack and Stephen would order if they were transported to the Royal Navy of the 1920s. Unless you think differently of course....

Jack, a traditionalist, I'm sure would ask for a Port Flip:
1 glass Port
1 dash sugar syrup
1 yolk of egg
Shake. Serve in large wine glass

For Stephen there is only one drink that would satisfy his inquisitive urges, Absinthe:
1 dash angostura bitters
1/3rd glass Absinthe
3 dashes sugar syrup
2/3rds glass water
Shake. Serve in cocktail glass.

Of course it would have to be proper Absinthe, with none of the active ingredient removed. Apparently the stuff that is available now is a very pale imitation of what used to be sold before legislation was brought in to restrict it.

Sadly I do not know what the dear Admiral Boyle was partial to. Perhaps he would order a "Bronx", to remind him of the large numbers of his former countrymen (and probably his grand-daddy's tenants...) living in the fair city of New York:
1/3rd glass gin
1/3rd glass French vermouth
1/3rd glass Italian vermouth
1/6th glass orange juice
Shake. Serve in a cocktail glass.

A Prodigious Feast From Smollett's Peregrine Pickle - Mary S.
This genial banquet was entirely composed of sea-dishes; a huge pillaw, consisting of a large piece of beef sliced, a couple of fowls, and half a peck of rice, smoked in the middle of the board: a dish of hard fish, swimming in oil, appeared at each end; the sides being furnished with a mess of that savoury composition known by the name of lub's-course, and a plate of salmagundy. The second course displayed a goose of a monstrous magnitude, flanked with two Guinea-hens, a pig barbecued, a hock of salt pork, in the midst of a pease-pudding, a leg of mutton roasted, with potatoes, and another boiled, with yams. The third service was made up of a loin of fresh pork, with apple-sauce, a kid smothered with onions, and a terrapin baked in the shell; and last of all, a prodigious sea-pie was presented, with an infinite volume of pancakes and fritters. That everything might be answerable to the magnificence of this delicate feast, he had provided vast quantifies of strong beer, flip, rumbo, and burnt brandy, with plenty of Barbadoes water for the ladies; and hired all the fiddles within six miles, which, with the addition of a drum, bagpipe, and Welsh harp, regaled the guests with a most melodious concert.

A Patrick O'Brian Weekend - Lawrence Edwards
[The Patrick O'Brian Weekend was held from September 13 - 15, 2002, at the Royal Naval Museum and aboard HMS Victory, Portsmouth, England.]
Dinner on board HMS Victory on Saturday was outstanding. We were honoured with the presence Vice Admiral Sir Peter Spencer KCB ADC, Second Sea Lord and Commander-in-Chief Naval Home Command; Geoff Hunt; Colin White, Deputy Director Royal Naval Museum, Director Trafalgar 2000 and temporary ex-Lissun; Reverend Peter Wadsworth, Rural Dean of Gosport; Lt Cdr Frank Nowosielski MBE, Commanding Officer HMS Victory; Dr Campbell McMurray OBE, Director Royal Naval Museum; a number of Lissuns and many other fascinating people. Before dinner we were treated to a VIP tour of Victory, including a look at the hold, which is not currently open to the public, and drinks on the quarter deck. The atmosphere during the meal was very special, eating on tables slung between the guns on the lower gun deck. The food was of course wonderful (I have scanned the menu for those interested) and the toasts and address were fantastic.
Menu detail from "A Patrick O'Brian Weekend"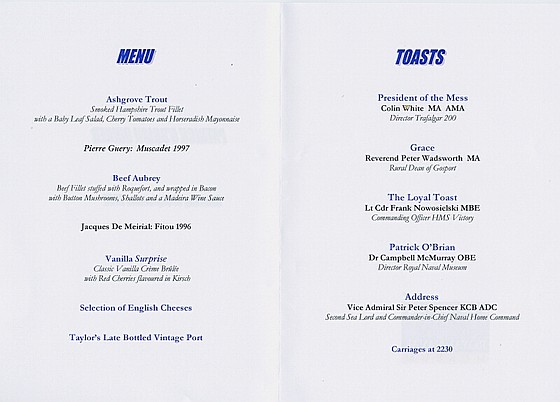 Click for larger image